Toolbox Talks Forklift Safety
When working with or around forklifts, there are always hazards that could present themselves. It's for this reason that we need to practice safety at all times. Here are some toolbox talks forklift safety topics that you can share with your crew.
Pallet Safety Toolbox Talk
What is a pallet? Well, simply stated, it's support for freight. Since it's support, it can take a lot of abuse, which also results in wear and tear. Over time, many pallets become so worn out that they should be discarded, but most times they aren't. In fact, sometimes they are even left in a corner and used as a last resort. This is definitely not a good idea, especially since it's not uncommon to hear that a pallet has broken, and freight has fallen from it. This is extremely dangerous because not only can it lead to broken equipment – people working in the area can get injured or even die.
So, how can you work safely around palletized loads? We have included a few important safety tips below:
Inspect your pallets regularly for cracks, weakness and damage. If you find one that is damaged, mark it unsafe for use to prevent any potential problems.
Make sure pallet loads are centred and balanced.
If there are several loose items, the load should be secured with shrink-wrap or banding.
Be cautious while stacking multiple pallets. The stack should never learn due to weakness or damage. This could cause it to fall over completely.
Know the limit of the pallet jack or forklift you are using – neither should ever be overloaded.
Establish load limits and comply with them.
Forklifts should have an overhead cage or screen to protect drivers from any falling objects that may fall while being stacked.
You should always practice caution while working with pallets. Think ahead and have a proper pallet safety plan in place. Doing so can reduce possible injuries and save lives!
Toolbox Talks Forklift Safety Reminders
Using a forklift may not seem difficult, but you may be surprised to learn that many workers suffer injuries while engaged in this task. How does this happen? Well, usually it results from poorly stacked materials that fall over and damage property or people. Remember, a lack of attention can cause safety challenges when stacking materials.
The number one issue is the stability of stacked materials – especially if it's going to be moved with a forklift or pallet jack. The movement during transportation can cause it to fall if it's already unstable. Even for stacks that aren't going to be moved, you still need to be concerned about stability. An accidental bump could still cause something to fall.
So, how can you prevent issues associated with stacked materials? Here's a few tips:
Make sure the load BASE is stable. If you want a load to be stable, then it all starts with the base being stable. Build the stack on a firm and level surface. If you're using a pallet, make sure it's in good shape. If it's broken or worn, please don't use it. This will only lead to trouble. Take a few minutes today to make sure your crew knows the difference between good and bad pallets.
Put the heaver/larger objects at the bottom. Before you do that, please check the printed instructions on the box that will tell you how many units can be stacked. This is important to prevent boxes below from being crushed due to the weight on top. If this happens, the stack will most definitely become unstable – it will also damage the items below. If you're working with product that is bagged, please make sure the contents are evenly distributed in the bag before you lay it down. Doing so will create a flat surface for the next tier.
Be mindful of the stack's weight. If you're required to move this stack with a forklift or even a pallet jack, make sure the weight doesn't exceed the capacity of the equipment. Also, take note of the weight bearing capacity of floors and shelves so you don't exceed these either. You should also spread the weight out so it's not just concentrated in one area.
General Forklift Safety Toolbox Talk
If you're an experienced forklift operator, then you know it takes skill and knowledge to complete this task safely and effectively. One of the most important things to remember that forklifts (and their operator) should be respected. Proper procedures should be used to minimize any chance of an injury. It will also make your job a lot easier too!
Inspect Before Use
Check all of these things to make sure it's ready for use.
Is the engine oil and other fluid levels ok?
How is the tire pressure?
Do steering & hydraulic controls work properly?
Are warning devices functioning?
Are service & parking brakes working?
How is the battery level?
Any fluid leaks?
Is there tank securing devices?
Do gauges & instruments work ok?
How are the cable connections?
How is the Fuel level?
Are the lights working?
Are the seat belts ok?
General Forklift Safety Rules
Here are some great rules to follow to ensure you safely operate a forklift:
Only authorized operators can drive the forklift
Check the front and rear before starting
Never engage in stunt driving, speeding or horseplay
Don't stand under raised forks
Keep your body within the forklift and fasten your seat belt
Do not walk between forks and any object
Maintain good vision of the area
Be aware of people and other vehicles in the area
Be cautious while turning, and stop at blind corners
Do not operate forklift with wet or greasy hands
Use proper and approved platforms when lifting personnel
Be cautious of overhead obstructions
Loading and Unloading
Not all forklifts are the same, and they may react differently when carrying a load. To avoid any challenges, please remember the following:
Don't overload the forklift
Approach the load slowly and carefully
Keep the mast in vertical position
Approach load and drop-off area at the right angles
After the forklift is properly loaded, tilt the mast back to stabilize the load
Only raise the load enough to prevent dragging
Position the mast vertically over the unloading spot
Lower the load and reverse slowly, watch for rear swing and don't drag the forks
When unloading trailers – chock wheels, set brakes & use jacks
Parking and Refueling Safety Reminders
Be cautious about unattended forklifts and potential fire hazards.
Always wear required PPE
Place the forks on the floor while refueling
Set the controls to "neutral" and turn the engine off
Remove the key
Do not overfill tanks
Replace the cap and clean any spilled fuel
Forklift Accidents: What Are They and How Do They Happen?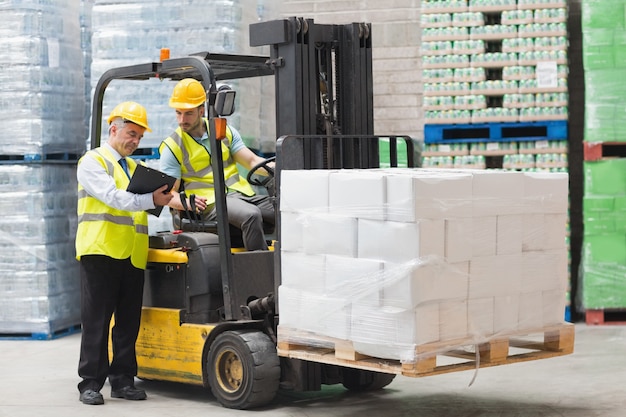 There are plenty of statistics online about the types of serious accidents that happen involving forklifts. We all know there are risks, but how and where do these accidents occur? Below are just a few situations that you should be mindful of.
Fatal forklift accident causes and where they occur:
Crushed by vehicle tipping over
Crushed between vehicle and a surface
Crushed between two vehicles
Struck or run over by a forklift
Struck by falling material
Fall from platform on the forks
How can we prevent these accidents?
One of the best things that can be done to prevent these incidents from happening is to roll out better training. No worker starts out with all the skills, knowledge and ability to safely operate a forklift. This is why proper training is crucial. Without being trained, you can easily injure yourself or co-workers in the area.
One thing to remember while operating a forklift is to keep the load low to increase vehicle stability. This can also help prevent the stack from tipping over. In the unfortunate event your forklift does tip, please don't jump into the path of the toppled load. Doing so can cause even greater injury, as the load can land directly on top of you. You should stay inside the vehicle if it does tip. While this is scary, your injuries will be far less severe.
Operate Forklifts Safely
If you're tasked with material handling while at work, then you've more than likely had to use a forklift (or at least worked around them). Forklifts can be very helpful when involved in material handling, however, they can also be very dangerous.
Being a forklift operator is serious business. In fact, you need to be properly trained before ever using one. You should also remember some general safety guidelines before operation:
Reminders for Operators
It is the responsibility of the operator to be in complete charge of their vehicle.
Operators must conduct a general safety checks of the vehicle, load, and equipment before use
Check for other workers or pedestrians in the area before driving.
The person operating the forklift MUST be qualified – this will be determined by Supervision, and experience and training will be taken into consideration.
You need to wear PPE including hardhat, safety glasses, hearing protection and safety shoes as required.
Horseplay is prohibited.
Report all accidents immediately.
Be Safe in Traffic
While operating a forklift, be sure to observe the usual traffic rules and regulations, which includes:
Drive the speed limit for the area.
Slow down at intersections, corners, and ramps.
Leave plenty of space between forklifts when moving.
Sound your horn in blind spots
While turning, be careful that you don't cut too short.
Be mindful of wet and slippery surfaces while driving.
Give pedestrians the right of way.
Stop at all stop signs.
Do not block traffic when you are parked.
Park with the forks lowered to the ground.
Pedestrian Safety Around Forklifts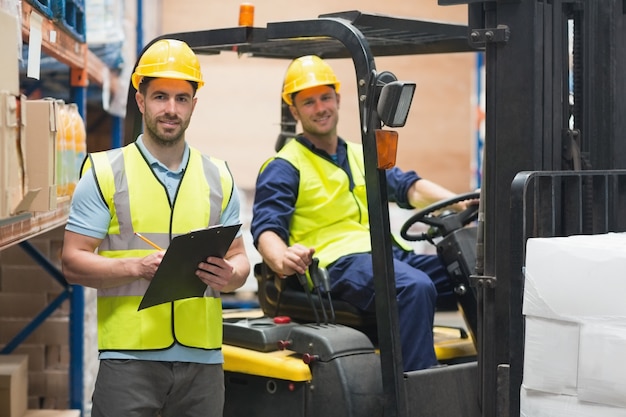 Forklifts are a large part of any industrial operation, so you've more than likely operated one or at least worked around them. When taking forklift training, it is usually centered around operators. This makes sense since operators are the people are will maneuver the vehicle while carrying loads. However, there is a whole other aspect that must be taken into consideration when it comes to the safe operation of forklifts – and that is pedestrians.
People working in the area are also at risk of forklifts. As a pedestrian working around this equipment, please take into account the following safety tips:
Make eye contact with the forklift driver – this way you'll know for certain that they see you.
Give operators space. This means you should keep a safe distance from the forklift and pay attention at all times.
Don't just assume the operator knows that you are there. Make your presence known.
Never walk under the raised forks of a lift truck. This also applies to times when it's not carrying a load – the forks could fall without warning.
It is easy to become a little complacent while working around forklifts – especially if we work around them daily without incident. It's also sometimes difficult to hear back-up warning signals on a noisy work site. However, accidents can happen any time – regardless of how many times you've worked around them in the past. The best way to prevent a possible injury is to be aware of your surroundings. Be mindful of equipment in the area and practice safety at all times.
Need more toolbox talks? No problem! Click here to see 5 general construction toolbox talks that you can share with your crew.