Toolbox Talks Scaffolding
Need toolbox talks scaffolding topics? No problem! Here are a few that will make your work day a lot easier (and safer). Remember, you should edit our general messaging to ensure it's specific to your own work conditions.
Toolbox Talks Scaffolding Inspections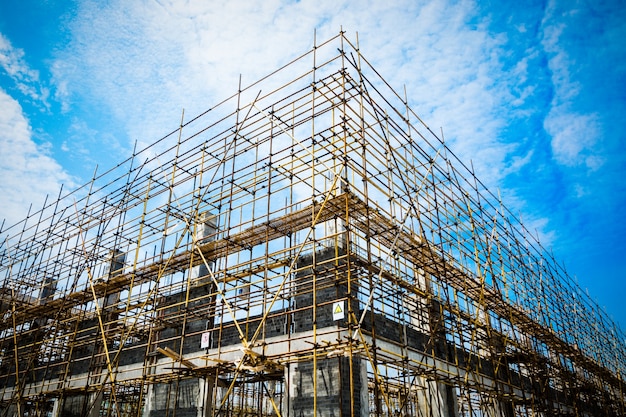 Scaffolding is a temporary, field-erected structure used for working aloft. Because it is temporary and field erected, it is subject to wear and abuse, improper assembly, and unauthorized changes. Construction standards require that a "competent person" inspect scaffolds for defects before every work shift. Yet, in all industries, every worker who works on or around scaffolding should be aware of safety requirements.
The following list includes things to watch for:
Scaffolding must be erected on firm footing capable of carrying the maximum intended load. Boxes, barrels, loose concrete blocks or brick must not be used to support the structure.
Consideration must be given to the weight the scaffold is to carry. It must be capable of supporting, without failure, four times the maximum intended load. The load includes not only the weight of the people on the scaffold but also any supplies and equipment being used.
Scaffolding is naturally unstable because it is usually a tall structure with a narrow base. To counteract this, the scaffold must be braced or tied off to a stable structure such as a ship's hull or building wall.
The planking used must be "scaffold grade." The wood must be clear, free of loose knots, splits, or other defects. To create a proper work surface, generally 2 planks need to be laid side by side to create a wide work platform
Toe boards should be installed along the outer scaffold edge, to prevent tools or materials from falling onto workers below.
Never make any changes to scaffolding yourself. Only designated "Competent Persons" should make modifications. Always check the rules and regulations for your place of operation to ensure compliance.
Scaffolding / Work Platforms
Inadequate scaffolding is responsible for many construction incidents. Scaffolds should be designed, built and inspected by competent persons. To avoid the use of makeshift platforms, each job should be carefully planned to assure that scaffolding is used when required and that such scaffolding conforms to the applicable regulations.
Guardrails, midrails and toeboards must be installed on all open sides of scaffolds.
Scaffold planks must be cleated or secured.
All scaffolds must be fully planked and constructed to support the load they are designed to carry.
All scaffold members must be visually inspected before each use. Damaged scaffold members must be removed from service immediately.
Access ladders must be provided for each scaffold. Climbing off the end frames is prohibited unless their design incorporates an approved ladder.
Adequate mudsills or other rigid footing, capable of withstanding the maximum intended load must be provided.
Scaffolds must be tied off to the building or structure.
Scaffold should not be overloaded. Materials should be brought up as needed. Excess materials and scrap should be removed from the scaffold when work is completed.
Barrels, boxes, kegs, horses, ladders, loose tile blocks, loose piles of bricks, A-frames or other unstable objects must not be used as work platforms or to support scaffolds. Never use work platforms mounted on top of other work platforms.
Where persons are required to work or pass under a scaffold, a screen of wire mesh or equivalent protection is required between the toeboard and the guardrail.
Overhead protection is required if workers working on scaffolds are exposed to overhead hazards.
Unauthorized personnel must not alter scaffolds or work platforms.
Toolbox Talks Scaffolding Safe Work Practices
Scaffolds are used every day in construction, providing a place to work from, and used in conjunction
with other scaffolds, they become support structures or platforms to store material. In addition, falls from scaffolds cause injuries ranging from severe sprains or strains to broken bones. Many of these injuries could have been prevented if every person using a scaffold followed some basic guidelines.
Follow all local codes, ordinances and regulations pertaining to scaffolding.
Be sure you inspect all equipment before use and daily thereafter. Check for cracks or bent parts, connectors, bracing, guardrails, access ladders, and especially footings. NEVER use any equipment that has been damaged. Be sure the scaffold is not overloaded.
NEVER ride a rolling scaffold and be sure to lock or block the wheels after moving it.
Keep platforms and the area around the scaffold free of debris and unnecessary material or other hazards that could cause you to trip or fall.
Be sure to plank all work areas and only use lumber that is graded as scaffold plank.
Never allow unsupported ends of planks to extend an unsafe distance beyond supports and be sure all planks are secured so they cannot be dislodged.
Fasten all braces securely. Do not mismatch side braces.
Provide overhead protection if there is a hazard above the work area.
Don't use scaffolds near power lines.
Check access. If your scaffold is not equipped with a built-in ladder be sure to have a safe means to ascend and descend.
Play it safe. Don't take chances with scaffolding. When in doubt, speak to your Supervisor.
Scaffolding Checklist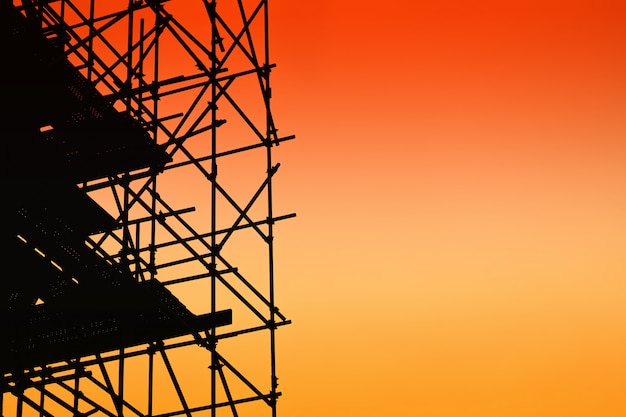 Are your scaffolders properly certified?
You must make certain that anyone constructing, or directly supervising the workers constructing, any scaffold from which a person or materials could fall is competent to construct the scaffold. This also applies to any alterations to the scaffold or dismantling of the scaffold.
Is the scaffold strong enough for the loads?
Make sure the scaffold is strong enough. Bricklayers, stonemasons, concretors and demolition workers need heavy-duty scaffolds, whereas Carpenters and general trades may need at least medium-duty scaffolds. Check the supplier's information for the type of scaffolding systems you are using and refer to the regulations for your place of work.
Is the scaffold stable?
Scaffolds can collapse if they are built on soft ground without timber soleplates to properly distribute the load, if they are too close to trenches or excavations, if they are not properly braced and tied to the supporting structure, or if they are badly out of level.
Does the scaffold protect the workers and other people?
Planks must be genuine scaffold planks in good condition, of uniform thickness (to prevent trip hazards) and secured against uplift. Platforms should be fully decked across their full width and free of gaps. Platforms may be required to have guardrails, midrails, and toeboards fixed to each open side and end. Where debris from the work can cause danger, it may be necessary to sheet the scaffold. If unsure, check with your Supervisor about when this is required.
Is there safe access to every scaffold platform?
Properly constructed temporary stairways or ladder access is needed to all working platforms. Climbing up and down the scaffold framework is very dangerous. Ladders must be securely fixed to prevent movement.
Are your scaffolders working safely?
While it is under construction, the scaffold should be isolated from other workers and the public. Stow tools in holders on your belt. Work from a full deck of planks whenever possible. Fix a guardrail for protection and leave it in place until that part of the scaffold is dismantled. Wear appropriate PPE. On large jobs, use a crane to lift scaffold pieces or use a winch or equivalent to reduce manual handling risks. Scaffold must be inspected and tagged ready for use before using.
Need more toolbox talks scaffolding topics? Click here for more.